West Ham will be coming off the back of a very good win and performance vs Chelsea at the London Stadium. They were very impressive vs Chelsea defensively really hard to beat very difficult to break down. They will take alot of confidence from the victory and also the performance as a team, David Moyes has really put his stamp on the team in terms of been hard to breakdown but also getting the best out of individual players.
The game vs Arsenal they will have a different challenge with Arsenal's individual players but also by Arsenal having a vocal point in Giroud something that Chelsea struggled with on Saturday, they looked to play through central areas but found it very hard due to West Ham's defensive display. Below is example's of West Ham Defensive Shape making it very difficult for Chelsea to break down.
Arsene Wenger made the change that had been hinted at all season. The back three was gone; the back four was, well, back. It did not, though, have the desired effect. Loose and listless in possession Arsenal were unable to create any chances of real significance. And out of it, there were moments where West Ham United's pace on the counter did threaten
The good news for Arsenal was after ten minutes, was that Arsenal hadn't conceded a goal, despite Granit Xhaka's best efforts to gift West Ham possession high up the pitch with a vulnerable defence exposed. The bad news was almost everything else. Although there were no real chances for West Ham, there was a lack of control of the game in the midfield areas, which is something that Wenger would have wanted given the formational shift, and a failure to create much in the final third, with the passing too slow and lethargic to pull West Ham out of their disciplined shape.
In fact, the first moment of goalmouth drama came for the Hammers. Breaking at Arsenal with real pace, which is exactly what David Moyes intended given the make-up of his front three, Marco Arnautovic peeled off Xhaka and Nacho Monreal, who looked worryingly lost, both attracted to the ball and consequently being caught under the cross, to head past Petr Cech. Fortunately for the Gunners, the offside flag was up; no goal.
This was a far from fluent display from the Gunners. West Ham were comfortable defensively and dangerous offensively. Alexandre Lacazette was sorely missed, Olivier Giroud wasn't being utilised effectively, and, up until this point, the substantial changes that Wenger had made were far from beneficial.
With West Hams defensive shape it nullified the qualities of Giroud, he feeds off crosses into the box which Arsenal didn't do enough, which meant Giroud dropping deep to receive the ball which isn't his strength.
West Ham defended excellently well and sat on the edge of their own box in a 1-5-4-1 formation and were very hard to break down. Arsenal looked to penetrate centrally which was a strength West Ham had due to been so compact as a team. Anautovic was very impressive he worked really hard for the team but also gave the team an outlet on the counter-attack.
Below is an example of West Ham defensive organisation back 4 defending the width of the 6-yard box with rest of the team defending inside the box. They outnumber the opposition with defensive overload very good defensive shape, David Moyes is implementing a framework with this squad to be hard to beat and its working there is a togetherness about them, the morale will be high due to their last two performances.
West Ham were comfortable out of possession due to Arsenal strategy in build up which was central, Arsenal needed to get the ball wide to create space in the West Ham defensive structure. If Arsenal had width in their team it would open opportunities for midfielders to make forward runs into spaces created, they played narrow, centrally and into areas where West Ham wanted them to play.
I am sure David Moyes wanted his teams football to be better, He wanted to create better chances, but it's one step at a time. Against the better teams they have tried to make sure they don't concede, the other games might give them more chances to be on the front foot.
Arsenal have such a good amount of special players, you have to defend simple as. Last year West Ham got done by the so-called bigger teams by three or four so to keep two clean sheets four points shows the improvement under David Moyes and it is a starting point for him in a tricky upcoming schedule.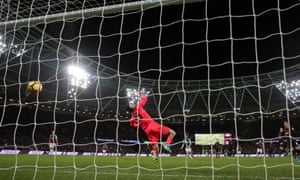 Only Laurent Koscielny knew what he was doing in the 90th minute when he chipped a high-risk pass inside from the Arsenal defensive right, but the panic gripped in a heartbeat. t was shocking to see how Arsène Wenger's team lost not only the ball but their structure and when Mark Noble produced a rare moment of quality with a slide-rule pass for Javier Hernández, the scene was set for the West Ham substitute to steal all three points. Hernández's shot hit the underside of the crossbar before bouncing down and away. Petr Cech appeared to have got his fingertips to it.
West Ham were happy to allow Arsenal to come on to them because they believed that they could land punches on the counterattack and Moyes's 3-5-2 often became 5-3-2. But the performance was marked by discipline and organisation.The first half drifted by with little in the way of penalty box action. The West Ham forward, Marko Arnautovic, had an early header correctly ruled out for offside while the closest to a breakthrough was Alex Iwobi's touch and quick unload on 29 minutes. The Arsenal winger's low shot hit the outside of the near post.
David Moyes after the game commented, We are trying to change the mood and the results have given us a good platform," Moyes said. "I would have taken four points against Chelsea and Arsenal, and we were unlucky in the game before at Manchester City. There have been good signs, although performances will have to change because we will be playing different opposition. We now need to take it on to the next level."
Conclusion
In the end, West Hams defensive organisation came through and made it very difficult for Arsenal. West Ham were a threat on the counter attack due to Arsenals defensive vulnerabilities, the blueprint for West Ham was a clean sheet and they worked really hard as a team to get that and could have won the game late on with a Hernandez chance.
Arsenal lacked creativity in the game, their build-up was pedestrian at times they lacked that cutting edge in the final 3rd that they needed to unlock a disciplined West Ham.